Former President Jacob Zuma apologized to Derek Hanekom in a short statement on Sunday.
"On 25 July 2019, I tweeted that Hanekom is a proven agent for the enemy. "I withdraw the allegation unconditionally and apologize as it is false," Zuma said.
This comes after the Constitutional Court rejected Zuma's application for leave to appeal against the Supreme Court ruling.
Zuma's application for leave to appeal was dismissed with costs earlier this week after the court ruled it had no prospect of success.
Hanekom shared Zuma's apology on Twitter, saying he accepted the apology. "As far as I am concerned, the case has now been settled, apart from the determination of costs and damages, and we can now move on."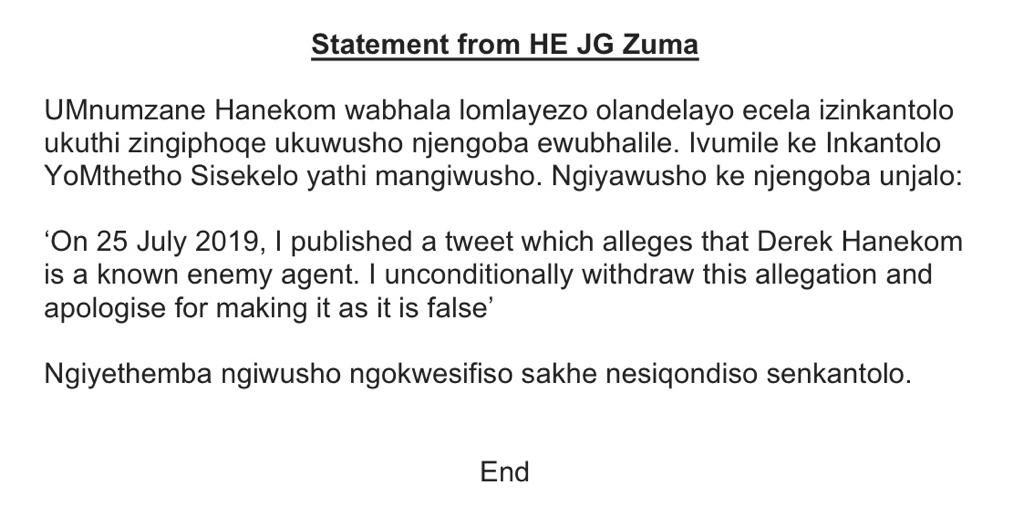 The Supreme Court of Appeal also rejected Zuma's application for leave to appeal in May, after which he approached the Constitutional Court.
Hanekom, an ANC veteran who held various cabinet posts, sued Zuma over the statement.
The Durban High Court ruled in September last year that Zuma's placement was "untrue, defamatory and illegal".
Zuma was ordered to remove the post within 24 hours and to apologize to Hanekom. He was also banned from ever again claiming that Hanekom was a spy for the white minority government.
Many Twitter users pointed out that the parts in Zulu however defeats the purpose of the apology.
In Zulu, Zuma said "I trust I have stated as requested by him and in line with the court order.".